FOAF+SSL: Secure, RESTful, Single-Sign-On Authentication
Ian Jacobi, Henry Story, Toby Inkster, Melvin Carvalho, et al.
19 February 2009
Overview
What is FOAF+SSL? Why is it needed?
Comparing FOAF+SSL and other authentication methods
How FOAF+SSL works
Building authorization on top of FOAF+SSL
Next directions
What is FOAF+SSL?
A RESTful, secure, open authentication framework
Like OpenID, with security by default and no provider
Implemented seamlessly on top of SSL
Why FOAF+SSL?
Linking common semantic representation to user token
Distributed ACLs
Protecting sensitive data on the Open Social Network
Current Alternatives: HTTP Authentication
Pros:

Supported by almost all web clients/servers
Easy to set up and maintain

Cons:

Site-specific login information (password glut)
Easy to set up insecurely (Basic over HTTP)
Shared secrets
Current Alternatives: OpenID
Pros:

Single username, single sign-on
Already deployed, many providers and provider softwares

Cons:

Security concerns (spoofing)
Not as easy to integrate or set up as HTTP authentication
An architectural hack (requires graphical browser)
Can still be implemented insecurely (HTTP provider)
Using FOAF+SSL
Pros:

Single 'username', need not remember URI
Requires SSL by default for security
Integrates with existing practice and standards
Provides link between user and semantic descriptions (for authorization)

Cons:

Self-signed client certificates may need minor workarounds on server
Implicit security of protocol unproven
Optional certificate presentation not well-supported (Safari, Chrome)
Technical Background - FOAF
"Friend of a Friend" vocabulary
A defacto RDF standard for describing a person
Semantic Web-based vocabulary
Gives an individual a URI
FOAF+SSL - The Protocol
FOAF+SSL - Adding Authorization
Only establishes control of a URI
FOAF URI and certificate allow for establishing trust (PKI/Third-parties)
Self-signing clients are okay: Web-of-Trust works better with clients than servers
Can use URI as unique identifier for policy reasoning
FOAF+SSL - Adding Authorization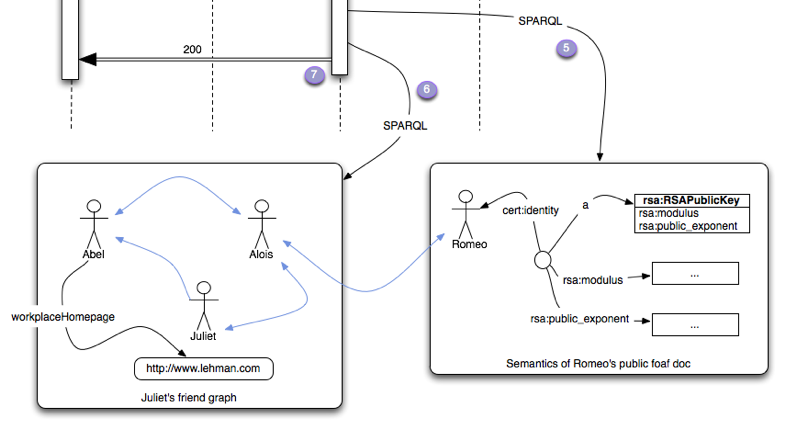 Use Cases
Single-sign-on web service user identification (as in OpenID)
Single-sign-on web service personalization (linking social networks)
Single-sign-on for other services (XMPP)
(Distributed) HTTP access control
Deployment Hurdles: Certificate Creation
Integrating in-browser SPKAC/SPKI cert creation
Several implementations of SPKAC/SPKI cert creation with FOAF+SSL
Caveat: IE doesn't support SPKAC/SPKI, but supports an equivalent
Deployment Hurdles: Ontology Design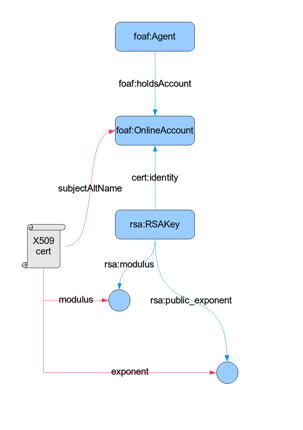 FOAF+SSL Implementations
mod_python and Apache (CGI version being tested with lighttpd)
Includes reasoner for complex authorization rules
In alpha

Java-based
Has certificate generator
Lacks authorization at this time

PHP, Perl, Openlink Virtuoso implementations, among others
Open Questions
How secure is the self-signing client?

Appears better than a self-signing server
Caveat: Establishes user as able to write to the URI, not that they ARE the person described by the URI.

Usability concerns

Some browsers poor at providing optional certificates
Some browsers don't accept client certificates

No authorization standard (out of scope)

TAAC is an example, but not representative