Overview
Why transparent, accountable systems?
General perspective of TAMI project:

view of the relationship between law and society
deep openness of Web-based social interactions

Privacy Challenges: Technical and legal
Accountability Design Requirements for Privacy Protection
Application of accountability to other public policy problems
Law and Society -- a pop quiz
How many believe you are subject to law (any law)?
How many of you follow (most) laws? [exclude speed limits]
How many of you read all the laws to which you believe you are subject?
How many have been to a court of law?
General goal: Making the Web 'Policy Aware'
How will the Web finally catch up with the 'real world'?: in everyday life, the vast major of 'policy' problems get worked out without recourse to legal system.
Design goal: instrument the Web to provide seamless social interactions which allow us to avoid legal system the way we do in the rest of life
Punch line: In the shift from centralized to decentralized information systems we see a general trend:
ex ante policy enforcement barriers -> policy description with late binding of rules for accountability
A. Privacy Challenges -- then and now
A. Privacy Challenge -- increased information collection, storage and analysis
gmail
MySpace
EZPass
AT&T (and the NSA)
B. Privacy Challenge -- inadequate laws
Outdated surveillance laws: limiting evidence collection is inadequate without more powerful control over inference
Limited scope of data privacy laws:

US: sector-by-sector collection limitations ignore large commercial and non-commercial transactions
EU: Data Protection Directive (the gold standard of privacy laws), key features:

Notice
affirmative consent (opt-in)
collection limitation (minimization)
purpose limitation (modulo consent)
access and correction
C. Privacy Challenge -- dilemma of consent
Can consent model (EU opt-in or US opt-out) be effective going forward?
Key will be purpose limitation, but we have a dilemma...
narrow purpose definition -> lots of choices = large time investment will yield privacy protection and low flexibility
broad purpose limitation -> few choices = small time investment required but less privacy protection
Dilemma: limited individual and regulatory capacity to control escalating data uses.
Result of consent dilemma + increased inference power: strict about what's collected but loose about usage
Collection Limitation -> Use Limitation
We're at the wrong end of the privacy spectrum and seeking the wrong results:

Collection Limitation -> Use Limitation
Still suboptimal control point: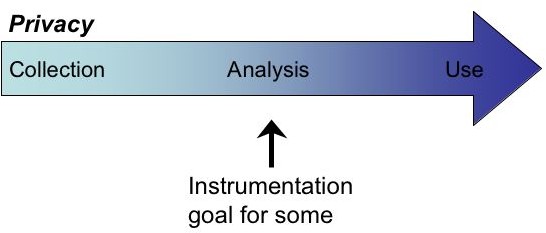 Collection Limitation -> Use Limitation
This is where we should be: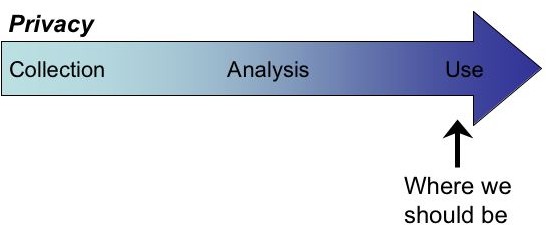 Collection Limitation -> Use Limitation
Why?
Rules express core values!!
Better allocation of individual and regulatory effort
Often the only logical evaluation point
Collection Limitation -> Use Limitation
How?
Systems: (see Abelson, Hanson, Delgado Kloos, McGuinness talks)
formal specification of rules over data
assess accountability to rules upon 'adverse action'
construct proof of compliance to accompany adverse action
Laws:
specify permissible and impermissible uses
require proof of permissible use along with adverse action (in high-sensitivity situations (government access, health records, ...)
learn how to match expressivity of legal rules with inferencing power
Other users of accountable systems
Health Privacy
Credit Reporting
Copyright management (DRM alternative)
Property
Departure from Hollywood content (centralied production) -> Blogs, Flickr and Livejournal (decentralized content we all make)
Property
Move from up-front enforcement barriers (DRM) -> open description of licensing terms (CC) with after-the-fact enforcement as needed
Links and Acknowledgements
For more information see:
Work described here is supported by the US National Science Foundation Cybertrust Program (05-518) and ITR Program (04-012).
This work is licensed under a
Creative Commons Attribution-NonCommercial-NoDerivs 2.5 License
.