Workshop on Privacy and Accountability
28-29 June 2006
Massachusetts Institute of Technology
MIT Stata Center (Building 32)
32 Vassar St.Cambridge, MA USA
Held in Classroom 144
Workshop Goals and Scope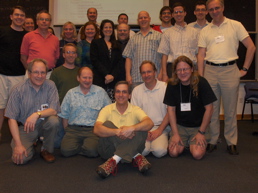 This workshop will bring together computer scientists, technology developers, lawyers, and other researchers interested in the general issues of accountability for and enforcement of rules for handling sensitive data. The main workshop goals are exchange of information about the state of the art in accountability and enforcement and formulation of research-agenda items, both short- and long-term, in this burgeoning area.
Workshop Materials
Background
From the CFP: Increasing use of computers and networks in business, government, recreation, and almost all aspects of daily life has led to a proliferation of sensitive data about people and organizations. Concern about the ownership, control, privacy, and accuracy of these data has become a top priority legally, socially, and technologically. Diverse technologies have been developed to enable anonymous or pseudonymous transactions, thus protecting stakeholders from abuse of their sensitive databy preventing the linkage of their data to their identities. Web standards have been set out to enable better communication of policies and preferences between data collectors and data subjects.
Despite all of this, policies, anonymizers, and pseudonymizers and even laws cannot be effective without enforcement and accountability.
Some Questions for Discussion
How can a potential user know that an organization actually follows the policy that is posted on its website or the laws to which the site operator is subject? What legal recourse does she have if she discovers that it doesn't?
How can an organization that has carefully crafted a privacy policy actually ensure that its database and other information systems, as well as its employees and organizational partners, comply with that policy?
How can we represent the various privacy rules (legal or private) and reason over them to assess compliance?
How can anonymous or pseudonymous entities be held accountable for their actions?
How can the vendors of anonymity and pseudonymity technology be held accountable for the security and privacy claims that they make about their products and services?
Workshop Organization
---
$Id: portia-tami-cfp.html,v 1.12 2006/05/02 01:23:48 djweitzner Exp $