TAMI/End-to-End Semantic Accountability
Face-to-Face Meeting
Summary of Outcomes and Action Items
14 (noon)-15 (6pm) October 2007
Meeting Locations:
Sunday: 32-G531 (conference room in DIG/W3C space)
Monday: 32-G449 (Patil/ Kiva, on 4th floor of Stata)
---
Logistics
Coordinates: IRC: irc.freenode.net#tami
Attendees:
Hal Abelson
Tim Berners-Lee (Monday only)
Li Ding
Joan Feigenbaum
Chris Hanson
Jim Hendler
Lalana Kagal
Yosi Scharf
Gerry Sussman
K. Krasnow Waterman
Danny Weitzner
Deb McGuinness
Oshani Wasana Seneviratne
Meeting agenda
Previous meeting agenda
Summary of Outcomes
Schedule and action items:
Timeline: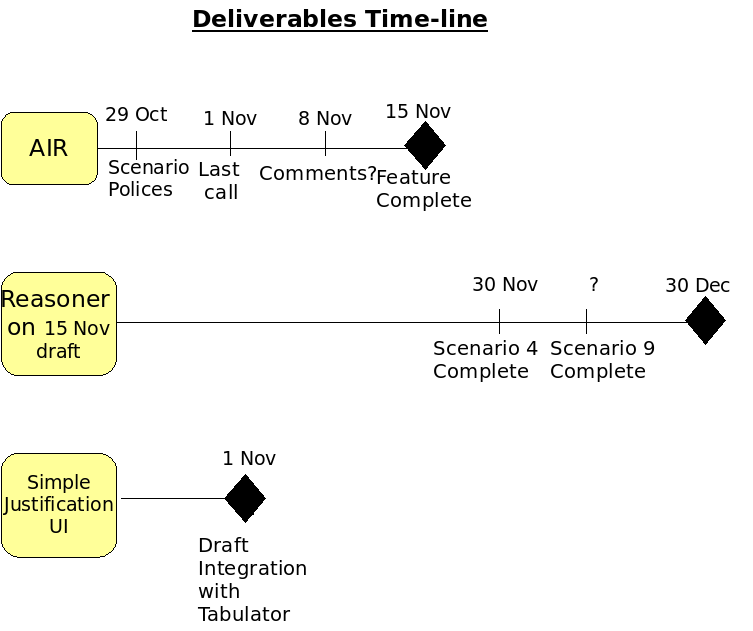 Publication plans and options:
Information Accountability paper
venue: IEEE Intelligent Systems
due date on 1/1/08
initial authors: DJW, LK, GJS
"Rule Based Policy Reasoning": AIR -AIR -DPA -Policy
venue: some journal
due date: N/A
initial authors: LK, CPH, GJS, Hal
System Level Write-up
venue: ??
due date: ??
topic: E2E/ TAMI/ DTO: Architecture -Challenges
initial authors: CPH, LK
Design Features of Rule Language
venue: ??
due date: ??
initial authors: LK, ??
Required Reading
---
Danny Weitzner
27 September 2007